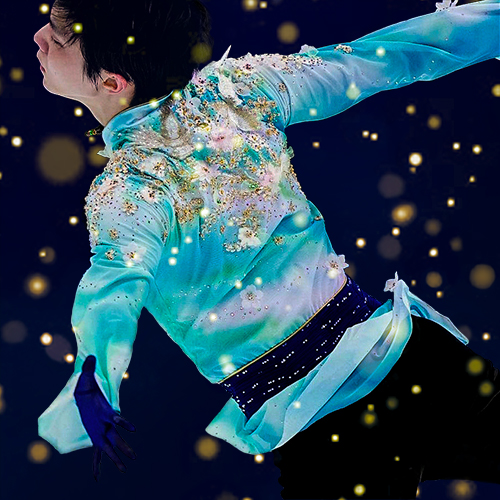 Recent Profile Visitors
The recent visitors block is disabled and is not being shown to other users.
Personally didn't see any such wording and hopefully it's not common. I don't think there's anything wrong with fans querying why Naomi was the final torch bearer as it didn't fit the recovery theme of the Olympics (earthquake or pandemic). Even on JPN twitter quite a few people didn't think it fits the original concept which admittedly has morphed from many artistic director changes. I've followed Naomi's career since her breakthrough at US Open, super happy for her after a tough year but still I really don't think any of the speculation is directed at Naomi, more at the organisers and

Is there a prize for guessing correctly? Almost the same except instead of CoC, I'd go for SCI. Asian Open is more likely but ACI is also possible if Yuzu wants to train in Canada for early part of season. I think GP assignments will be driven by money this year - it's no coincidence that SOI and DOI are co-organised by JSF and sponsors increased for DOI once Yuzu was in the line-up (not saying he doesn't want to do it, he probably does). More than likely NHK will request Yuzu for same reason no matter what JSF politics are. Also traditionally NHK is assigned to the JNats cha

Adding my 2 cents worth on the selfie: I'm not sure whether people realise the sequence of events, this happened after the grand finale on the ice before the audience had even left. After the selfie, Yuzu jumped revenge 3A before leaving the ice. I'm not sure when people expected the skaters to put on their mask or how to refuse to take group selfie?? Check the tweets from the live audience. Was group selfie a good idea given the current covid situation in Japan? No and it doesn't send the correct message. Was SOI run responsibly? No and I hope Yuzu never participates again.

Sorry you are right... for some reason I was thinking of Kinoshita Academy. I think she uses their facilities in Japan.

I agree -the event is co-sponsored by JSF according to SOI website. I think there's a lot of things going on behind the scenes which we don't know about. Example 1: Rika is injured and her priority has always been Beijing Olympics. I do not believe she would have prioritised ice shows over recovery and rest during Olympic season. IMG is her agent and Kinoshita is (was?) her sponsor. Example 2: All the skaters in SOI who participated in Worlds and WTT were careful with masking during group numbers. Suddenly none of them are wearing masks and touching during group choreo. None of

15

Please note that the source is Josei Jishin who have stalked Yuzuru and taken paparazzi style photos. Please take it with a grain of salt. Also may I suggest if someone wants to read it to take a screenshot rather than giving clicks to the link (even if it is via yahoo news).

If you have LINE app, you can also search "3.11" on LINE. Details in: https://news.line.me/issue/1f2ed12bc413/7ec1857e3597?utm_source=yahoo&utm_medium=fund&utm_campaign=20210304&utm_content=fukko_about

5

This is a very thoughtful project and reminded me of a comment from someone who lived in one of the affected areas. In 2019, Japan House in collaboration with Japan's Reconstruction Agency invited an NPO from Rikuzentakata to talk about their organisation and activities. One of the founders of the NPO said (paraphrased) – despite all the reconstruction of the past 8 years, the rebuilding of the community was just beginning. She expected it would take even longer and was more challenging due to mental fatigue, people never returning to the area or outsiders "forgetting".

11

It happened at AO tennis prior to entering bubble. https://www.google.com/amp/s/amp.theguardian.com/sport/2021/jan/14/us-tennis-player-tennys-sandgren-flying-to-australian-open-despite-positive-covid-test IIRC there was another incident with players testing positive as virus shedding but I can't remember whether the outcome was to quarantine or allowed to continue to train https://www.google.com/amp/s/amp.theguardian.com/australia-news/2021/jan/19/restrictions-may-ease-for-australian-open-players-if-positive-covid-cases-shown-to-be-historical The cases in AO

There's an exemption to enter the country for athletes and support staff. This has been in place since November 2020 https://polisen.se/en/the-swedish-police/the-coronavirus-and-the-swedish-police/travel-to-and-from-sweden/

isakura: you won't need VPN to use or subscribe. Except don't set VPN to Japan as it doesn't allow viewers in Japan to use the service. FOD: you will need VPN to subscribe and use. The enrolment screen is straightforward - email address / password. Subsequent screen requests credit card details. Just remember to cancel within the 14 day trial period and you won't be charged (although a pre-authorisation charge may be taken) There are pros and cons of both: personally I find FOD doesn't lag compared to iSakura, however the setup / cancellation process may be more co

4

there's more money involved with Worlds - they'll try to hold on to it until the last minute.

2

I hope not - it would be tone-deaf for any sports to divert initial limited supplies away from HCWs and at risk groups. In my country, it is expected that a vaccination roll-out in Dec/Jan for these sectors would only be completed around Easter. Also it would be unfair for skaters from countries without ready access to vaccine. In the long term, I could see possible compulsory vaccination as participant requirement but not if WC is held in March 2021 as planned.

Can I say that Skate Canada's response to covid has been great since the farce of Montreal Worlds. If JSF don't send their skaters to WC and Japanese sponsors start pulling out - highly unlikely scenario given how JSF went ahead with NHK - then there's a better chance ISU will consider alternatives. A bubble is not foolproof since the PCR test gives a false negative early on especially for asymptomatic cases https://www.bbc.co.uk/news/world-asia-55083091 It took up to 10 days before there was a positive test result for a player at the US Open tennis earlier this year even th

Entries to JNats close on 24 Nov so I think we will hear soon whether Yuzuru plans to compete or not. Same tbh - it's not in the interests of large Feds or ISU to implement objective judging system.