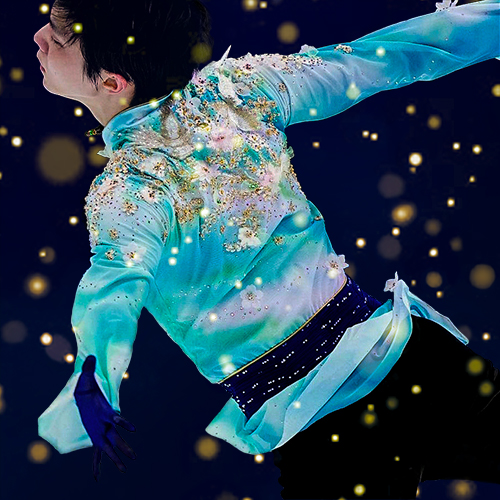 Posts

28

Joined

Last visited
Ghis's Achievements
Mushroom (1/67)
Hello, I still cannot use this website correctly, it is the most difficult website I have seen in my life, I can only put a message like this. NEXT COMPETITION DATES in which Yuzuru will participate: I think I'm not going to learn anything new but just in case here are the dates: - from November 12 to 14: NKH Trophy, Japan - from November 26 to 28: Rostelecom Cup. - from December 9 to 12: Final Grand Prix in Osaka Japan (if he is qualified after the first 2 competitions but I would be surprised if he weren't.) What we can say is that between each competition he will not have much time to rest ... they could have put one in October as the season starts in October, but we know they don't care about this. I do not know if in the meantime he will be produced again in a gala or exhibition, if someone knows, I would be very grateful to inform me in response to this message, since I do not know how to navigate this website and I never find what I want. Thank you and happy summer everyone.

Well, I have not been able to see him live, and I have not found videos after Yuzuru's performance either in PH or YouTube and I am disappointed

Hello everyone, today is DOI but I can't find a way to watch it live, I can't pay for a TV subscription and I'm afraid I won't be able to watch DOI today, tomorrow, or the day after tomorrow. It's a shame that to see this show we have to pay.

Well, it seems that it will not be possible to see DOI 2021 at least by subscribing to a pay TV, and I can not do it, so hopefully later it can be seen in PH or with a bit of luck on YouTube.

But do you have to pay to watch live on TBS?

until

Ah ok, thanks a lot

Someone has told me that it cannot be seen on PH but on qq livestream and I appreciate it, I looked for it and I found it but there are 37 apparently free Japanese TV stations. Question: on which Japanese TV from the qq lives stream list will DOI with Yuzuru be seen?

But what will happen? Is there going to be a live broadcast on PH TV or is there going to be a discussion? I'm sorry but I'm new and I don't understand much.

Thank you very much but I do not understand the schedule of the calendar, I suppose it is Japanese time but at 5 in the morning on the 1st or at 5 in the afternoon? On day 2 I don't even understand or on day 3.

until

I don't quite understand the schedule: is it from 4 in the afternoon until 6 in the afternoon Japanese time?

Hello to all the friends of Yuzuru, who could tell me the (Japanese) hours at which the exhibitions start? I had seen an ad a couple of days ago in PH with the dates and times of DOI 2021, and now I look for it and it is impossible to find it again, I am new and I can never find again ads or posts that I have seen a few hours or a few days after. Another question: can they be seen on PH TV? I have tried TBS Japan and my computer is not configured to see it and I do not know how to fix it Thanks in advance for helping me.

Hello friends of Yuzuru, a video with the list of competitions in October and November 2021 has been released on YouTube today. Yuzuru will participate in the NHK Trophy Japan from November 12 to 14 and in the Rostelecom Cup from November 26 to 28. November. What a joy to finally know when we will see him again in competition. I hope between now and November he is in good condition and in good health, to see if he recovers from the bad luck he had at the beginning of 2021, and to see if the judges evaluate him more fairly. I wish him the best of luck and success. He deserves all the happiness in the world. We are here to always support you, dear Yuzuru. With love.

I am new to this website dedicated to Yuzuru and I just wanted to say that I am very grateful for all the messages that you have sent me to help me. I see that Yuzuru fans are good people and are in the image of Yuzuru's generosity and good vibes. Never in my life (and I'm not so young anymore) has something similar happened to me like what happens to me with Yuzuru. Lover of the arts I have seen many artists, singers, dancers, skaters, but with Yuzuru it is something magical. It was nothing more than seeing his competition for the first time and it impacted me so strongly that it went directly into my heart and soul. I have never felt anything like this with any artist or skater. And I know I'm not the only one to whom something like that happens. It is to see him skate and feel my heart vibrate in the frequency of Love. (I am not talking about the love that may exist between a man and a woman but about love in its energetic and spiritual dimension). I hope you understand what I mean since it is not always easy to put words about what we feel. Yuzuru has a special mission in this world that goes beyond skating him "God is watching me" Yuzuru said in a video I saw recently. And with that I end my comment that otherwise it would be very long. I wish everyone who loves Yuzuru a long and happy life. Bye.