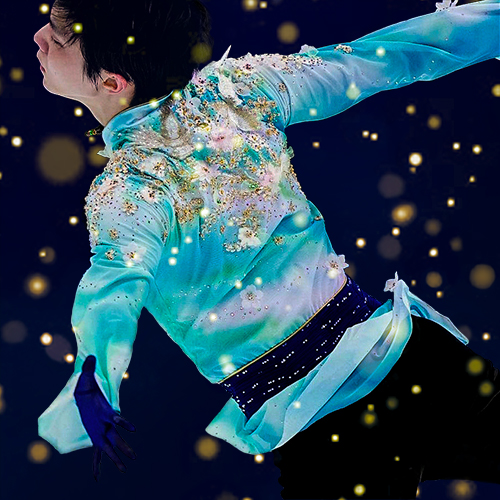 Posts

778

Joined

Last visited
Personal Info
Country
Location
Interests

classical music, art, literature

Occupation

retired after a life spent as record store clerk, university instructor, supermarket employee and bed and breakfast employee
micaelis's Achievements
Layback Ina Bauer (9/67)
I think I may have said this before but it sometimes pays to repeat oneself. Regarding Yuzu's short program, I wish he'd make it Masquerade, his best-choreographed, most passionate program ever (even more than POTO). The ultimate scenario would be that in Beijing he'd alter what he has been showing previously this season and when he makes that first jump where his landing is exactly timed to match a sudden, thundering crash in the music, instead of the 3A he's been doing, he unveils Nessie in all her quadruple glory. Followed by the rest of his program he'd really set the challenge for Nathan, because even at his best Nathan can hardly even begin to match Yuzu's skating as far as showing the emotions are concerned. Nathan's an expressionless robot next to Yuzu's highly human persona. I think Yuzu would probably pull almost all 10s on the PCS side of the scoring and it would be very difficult for the judges not to rate his technical score low after that 4A. All this, of course, is almost certainly mere daydreaming on my part but I'm not going to dismiss it simply because it is. Masquerade is the best program Yuzu's ever done and it really doesn't deserve to be buried in the past even though I know that it seems to totally drain Yuzu after every performance of it. Slightly off-topic - The Nathan camp must be starting to get nervous because Yuzu seems to be showing absolutely no evidence he wants that gold in Beijing. That doesn't work very well when the Americans are doing everything they can to frame the story next February as the showdown between Yuzu and Nathan. It's hard to do that when one half of the rivalry couldn't give a damn. That's on top of the fact that all the other nations' commentators will be seeing the major story, not only in figure-skating but also of the total Olympics, as Yuzu's pursuit of a third straight gold, something that hasn't happened in almost a century. The Americans will be shouting 'Nathan-Yuzu' when everyone else will be shouting 'Yuzu-3d gold'.

I think there are probably hordes of skaters both present and past who would follow Yuzu if he decided to try and create an alternative to the ISU. This is analogous to a movement by a number of the most prominent stars in the Hollywood of the late-silent era who deserted their current studios and formed a studio of their own which they called United Artists. That is something I think terrifies the skating establishment because they know that if anyone can lead a movement to establish a new ISU it is Yuzu. He has the intelligence, he has the charisma and I think he also has the willpower (if he should decide to do so) to see it through. It wouldn't take much in the beginning. Just a few of today's top skaters would begin the migration. If enough skaters climb onboard and a competition schedule is created as an alternative to ISU's then you'll see a mass migration of most of the rest. We'd see a skating version of a mantra of the Vietnam Era - What if the ISU put on a skating competition and nobody came. The proper answer is no one. And if that were the case, well, good-bye ISU.

Okay, I get the point from a couple of you. Yuzu as flag-bearer would not be the wisest idea. But if Yuzu participates in the opening ceremonies you can be certain the cameras will find him when he enters with the other Japanese and the audience will be informed that he's pursuing his third consecutive gold, something that hasn't been done for nearly a century. That will still get the message out. As far as Yuzu's third gold being the big story of the games next year, I still stand behind that assertion. And you can bet that while the Americans (and perhaps the Canadians) will not do so every other broadcaster covering the games will have special short coverage of him, giving the watchers around the world a quick course in the saga of Yuzuru Hanyu, detailing his achievements, his trials (the earthquake, the collision, the crippling fall) and his position in Japan, a position in which in Japan he is an icon far transcending being simply a figure-skater. For those thinking that the NC/Yuzu competition will be the major story they are dead wrong. NBC will be only a small part of the worldwide coverage. The various other nations' broadcasters covering figure-skating do not take their marching orders from NBC and their commentators are far more likely to favor Yuzu over Nathan and for them the question of Yuzu's third straight gold and the possibility of finally seeing someone doing a 4A, well, those two elements will be the ones shaping the narrative in nations other than the US.

We're well into the summer games right now and the final countdown is beginning for the winter games. Beijing beckons. Now for the great debate going on here right now about scoring and NC and Yuzu's androgyny. The Americans are doing all they can to put forward figure-skating on the men's side being the rivalry between Nathan and Yuzu. Everybody else will be looking to see if Yuzu gets his third straight gold. How can those in his camp make sure that that is the focus in Beijing. A very simple maneuver and one that Yuzu will accept. Make him flag-bearer in the opening ceremony. Then, when Japan enters the stadium EVERY commentator from nations not the USA will talk about how Yuzu is pursuing his third straight Olympic gold, something not done in almost a century. For the audience worldwide looking at that extremely attractive flag-bearer, their interest will be piqued. They'll want to see if this young(?) athlete actually does the trick. The BIG story of the games will be front and center and the NC/Yuzu rivalry will become a side-issue. After that Nathan will be portrayed, everywhere but in the American coverage, as an usurper trying to deny the king his crown. The folks at NBC will realize that Yuzu has just delivered to them massive ratings for the men's competition. The folks at ISU and IOC will also realize that and also will realize that the conduct of the judges will be scrutinized carefully by the very knowledgeable pro-Yuzu broadcasting commentators (Yuzu has more fans than just Max amongst the commentariat and certainly more fans there than Nathan has) and any bias shown by the judges will be noted and relayed to the public at large. The IOC and ISU will know that they are being judged just as much as Yuzu is by their hand-picked judges. They cannot risk the scandal if there is widespread public belief that Yuzu's gold has been stolen. And if Yuzu wows the world by introducing Nessie in all her four-and-a-half rotations to the world it will be totally impossible for the judges to underscore Yuzu. I know so many of you are thinking that NBC's money might be enough to secure Nathan the gold, but there's more than money on trial as far as the ISU and IOC are concerned. There's also their respective statures. They can't be perceived as biasing the judging, certainly not when figure-skating is involved, since it is one of the two 'glamor' sports in the winter games (Alpine skiing the other one). I've commented before on the fact that the judges are under far more scrutiny in the Olympics than in the rest of the season. That will be doubly the situation in Beijing, so relax. The judges will be told to do their judging legitimately. For the ISU and IOC there is potentially more at stake than the loss of NBC's support if Nathan loses. Their legitimacy is on the line. The public at large may not be knowledgeable as far as what makes for great skating but the commentators do know their stuff. So, as Brian said at the World Championships when awaiting the scores for his history-making free program in Helsinki, trust your training, I say to all of you 'trust the commentators'. By doing their job they'll insure the judges will do their job when Yuzu and Nathan skate. Quality will win out and the judges who know quality when they see it will tell the public that they are seeing quality when Yuzu skates. So trust the commentators. They know their stuff.

With Canada opening up its borders on September 7 to fully-vaccinated international travelers the impediments to Yuzu's return to Toronto are removed. He has, however, said he has no inclination to return to Toronto to train, saying simply that he has been training all right in Sendai. I have a suspicion, however, that his reluctance to head back to Toronto might be a reluctance to uproot his mother once again. That's just a gut feeling so don't pounce on me if you disagree. The thing is, however, I can see Ghislaine heading over to Sendai to spend a week or two to work with Yuzu on his pursuit of the 4A. That's also a gut feeling. In any case I hope that Yuzu decides to begin his season not with the ACI, as he has in previous seasons, but instead to begin his season with the NHK in November. That gives him much more time to train, to perfect his programs, particularly if they are new, and to focus on the competitions that truly matter, meaning the GP series, Japanese nationals, and then Beijing. I'd also like to restate my feeling that in Beijing, while the Americans will be doing everything they can to make the competition there between Yuzu and Nathan the big story, everybody else will be looking at Yuzu's pursuit of a third straight gold medal as the big story. In fact, it will be the major story of the entire Olympics since the last time a man took a third straight gold in figure skating was in 1928, nearly a century ago. There will also be speculation about the 4A, if Yuzu hasn't already introduced Nessie to the world at large by then. I'd also like to state that the judging of Yuzu in Beijing will be under microscope and the judges will almost certainly be well aware of it. They do not want to be seen as biased against Yuzu and thus denying him that record third straight gold and believe me, if they do underscore him the commentators of the skating broadcasts will not be hesitant to point that out to their viewers. Except for the Americans the commentariat will largely be in Yuzu's corner for the competition. After all, the public always tune is when there are records at stake and by and large the public will be in Yuzu's corner also. Beijing will be very frustrating for Nathan because again except for the Americans he's going to be viewed by the press as a young upstart seeking to prevent the king from getting his rightful crown.

I know there are many here with deep concerns about Yuzu appearing in the opening ceremony. I think they should rest somewhat at ease. Japan began vaccinating all summer Olympic athletes and the support personnel beginning June 1. If Yuzu is appearing in the opening ceremony you can be certain he was vaccinated then. They are not going to risk one of Japan's most highly profiled athletes in this pandemic. He's not only possibly important in tomorrow's opening ceremony but also definitely important going into this year's Olympic season. JSF may not value Yuzu to the extent he should be (if they value him at all) but he is seen as valuable with many powerful figures outside the skating establishment. Otherwise he would not have received that People's Honor Award. So be somewhat at ease about what may happen with Yuzu tomorrow. They'll keep him as protected as possible. In regards to Yuzu and tomorrow, if he is in the opening ceremony he probably traveled to Tokyo by auto, thus avoiding the potential contagions in flying or going by rail. If he is staying in Tokyo my guess is that it will be in a private residence, since that is much more easily concealed from the general public than if he were in a hotel. Word of Yuzu's presence in a particular hotel would put that hotel under siege from journalists and fans. And one final note, very off topic - Brisbane, Australia has been selected as the site of the 2032 Olympics. Hopefully those games will proceed much more smoothly than those commencing tomorrow.

That is a situation Yuzu can certainly understand, remembering the damage from the earthquake to Ice Rink Sendai and his initial difficulties in finding an alternative training base for it. Fortunately the rink was merely damaged and not destroyed though I surmise it had to take out bank loans to pay for the repairs. All the evidence here suggests that Yuzu has been a significant source of funds in paying off those loans. If Yuzu after retirement should opt for coaching I have a feeling that he will base his school there. It would be fitting to have a training school there since Sendai was where figure skating in Japan began so many many years ago.

Bravo!!! for Ghislain. Now it's Brian's turn.

On vaccinations and Yuzu, I think it quite possible that Yuzu is already vaccinated since they started vaccinating all those involved with the Tokyo games beginning 1 June, athletes and support personnel alike. If Yuzu is going to be involved with the opening ceremony I think it quite likely he already is and possible Mama Hanyu also, since she's his major support person in Toronto. In any case the Japanese are now vaccinating all the winter athletes and support personnel so Yuzu's in line there. I also think, as others have, that Yuzu and his family will be vaccinated privately as, has been noted, any appearance by Yuzu in public in Japan can be the cause of a mob scene. On another note, beginning 6 July Canada is relaxing its entry requirements and if I read things correctly, those already vaccinated will be able to enter from foreign shores. This is according to an official government page although I'm somewhat foggy on the detail. If anyone here is Canadian, perhaps they can seek out the information there and clarify things. If my reading is correct Yuzu and his mother will be able to return to Toronto. If he's involved with the opening ceremony on the 23rd of this month he'll remain there until after and then I really think he'll head back to Toronto, since I feel that Yuzu needs Ghislaine's personal attention there to help him towards his 4A attainment. Also, he'll be in position to participate in the ACI at Pierrefonds in Quebec which means he'll be within driving distance of the competition and have absolutely no jet lag problem since Toronto and Pierrefonds are in the same time zone. I think there may also be a hidden blessing in the timing of Yuzu's GP assignments in that Yuzu will be able to remain in Canada through the early season training with his coaches and then heading to foreign parts to finish up the year. He'll probably head to Japan early to deal with jet lag, staying in Sendai until right before the competition in Tokyo. Sendai to Tokyo is an easy drive by auto. Probably he'll return to Sendai rather than Toronto before heading to Sochi. I think he'll head to Sochi early to handle the jet lag or adjust to Sochi time while still in Sendai. Then it'll be back to Sendai rather than Toronto to prepare for Nationals and once Nationals are done it'll then be back to Toronto. I don't know whether he'll do 4CC or not (will there even be a 4CC next year?) but he'll stay in Toronto until heading to Beijing and the showdown with Nathan (as the Americans hope) or the showdown with Gillis Grafstrom and his threepeat record (as everyone else hopes) or his showdown with Nessie (as everyone here plus Yuzu hopes). For me the ideal season for Yuzu would be winning everything big (GPF, Olympics and Worlds) and Nessie fully revealed. Then, I think, Yuzu announces his retirement unless he has decided to go for four Olympics, which if he succeeds in that even the Americans won't be unable to recognize him as the GOAT.

Grand Priz series and Yuzu? I think it is most preferable for Yuzu that he get Japan and Canada, Japan because it's home turf and they know he'll fill the stadium, Canada, because it's home-away-from-home turf and he won't have to worry about jet lag getting there and the stadium also will be filled. I think it likely that skaters that are perpetual medal contenders, such as he, Nathan and Shoma, almost get to pick and choose where they want to go. By 'almost' I mean they make their preferences known and then the authorities make their decision. With Yuzu's well-known ability to fill just about any size of arena I would think there might be a bidding war amongst the Grand Prix hosts, if such were possible. In fact, if there were such a place, I think Yuzu could fill a football-sized (both American and soccer sized) stadium. Also, if I were the Tokyo Olympic authorities, if Yuzu is having a visible role in the opening ceremony I'd announce it early, without saying exactly what that role is. That would not only maximize the Japanese viewing audience but also bring in tons of international viewers. Yuzu has the ability not only to fill arenas but also to fill the viewing arenas. I would be willing to wager that in competitions he's in the men's competition has many more viewers than the other disciplines, which also goes to show that when it's time to sell tickets Yuzu rules.

I respect your reasoning here but I do think you are not taking into account factors which I have, being that the Nathan/Yuzu rivalry will take second place to Yuzu's pursuit of a third gold medal. I'm looking at this from the perspective of how everything will be framed in the broadcasting of the event, a framing which will, in fact, define the event. Nathan versus Yuzu is attractive to the American, but ONLY to the Americans. There's a lot more to figure-skating than is found in the United State, which in reality is not all that much of a figure-skating country. Yuzu will have on his side a huge number of the broadcasting commentariat. They will notice when things are not being done by the book and they will say so. The IOC and others stand to be thoroughly disgraced if it is readily apparent that the cards were stacked in Nathan's favor. The thing we have to remember is this, the dynamics for figure-skating at the the Olympics are on a different level than figure-skating all the other times. Figure-skating is one of two 'glamor' sports of the winter games, the other being Alpine skiing. With the persistent undertone in the figure-skating world of how Nathan is being given a free ride while Yuzu's every small error (and they usually are only small) is resulting in points lost, the commentators will be taking note of that. I can see some of the more Yuzu-friendly commentators making comments about how Nathan's and Yuzu's scores are often off the mark before either of them begins to perform, calling attention to the audience to see if what they've said is true. I'm an American and like most educated Americans I have a keen awareness of how it is often thought that money can buy anything, that all individuals have the price that allows them to throw aside all moral constraints. The thing is that if Yuzu enters Beijing as a world-famous celebrity, something I think possible if he gets the exposure next month in the opening ceremony of the Tokyo Olympics, Nathan will be a nobody. Nathan's fan base is pitifully small, like the fan base of all the American skaters. Figure-skating is not an American passion. Yuzu will go to Beijing not only as Japan's favorite but, with it unlikely they will have any skaters in contention, also the favorite of the Chinese and Koreans (after all, he is Asian, and native Asian at that). We should not underrate the Yuzu threepeat narrative. Yuzu will be trying to do something that has not happened in nearly a century. That narrative will override the Yuzu/Nathan narrative and, in fact, will be the number one story of the Beijing Olympics. Outside of the Americans I can see that Nathan is going to be characterized as a spoiler, someone out to deny the king his rightful crown. That is a powerful narrative to contradict and I think the skating officialdom will be forced to agree and let Yuzu get is third gold medal.

With the Olympic opening ceremony now just a month away I've been thinking of what effects might occur if Yuzu is given a prominent part in that ceremony. To begin with, though, a thought about the ceremony viewership. First off, the ceremony will take place in early afternoon European time and early morning North American time. For Europe it's ideal. For American and Canadians it's decidedly less so, though those in the Eastern and Central time zones will be able to see it after the sun has risen. As far as viewership goes I think the numbers will be higher than normal since many will tune in to see how things are being handled mid-pandemic. As far as Japan goes, I have a feeling that it will be an unofficial holiday across the country. THEY want to see how things are being handled also. The number of athletes at the ceremony will also be smaller since the athletes can't arrive more than five days before they start competition and I imagine will be required to leave once they are done competing. All this to lesson inter-athlete contacts. Olympic Village, I think, will be more Spartan than Athenian. Now to Yuzu. First off, I (and many others here) will be quite surprised and disappointed if he is not featured at some point in the opening ceremony. In Japan he is iconic, far far more than just a figure-skater. His face is instantly recognizable from one end of the Japanese Isles to another. Outside of Japan, however, he is known basically only by the figure-skating fans worldwide. Amongst them, I will add, he is also iconic. Everyone in figure skating knows who he is and why he is known. They might not call him the GOAT but they know that amongst all the skaters in today's competitive world he has the greatest claim to that title. The crucial element here is that proceeding with the games has met with a high rate of disapproval amongst the Japanese public. What is needed is some very high-profile figure to be involved with the ceremony whose presence will serve to bring the Japanese public around. Yuzu, a public figure with a ridiculously high rate of public approval, a figure who has been in the public spotlight for years and about whom not a single breath of scandal has ever been seen, well, folks, he's just about as ideal as they come. The Olympic officialdom needs him and I think he is most likely available . He knows what's at stake. So we reach now the main question - What effect will Yuzu's appearance have on Yuzu's career and his fandom? There are two separate questions here and I will begin with his fandom. I'm remembering back at the time of Princess Diana's death when the British public (and the world's public also) got it's first real close-up look at young Prince William who was right then at the peak of his adolescent gorgeousness. In Britain he became a teen-age idol. I think Yuzu will have a similar effect. I know that amongst us here on the Planet and also amongst the Japanese public as a whole we've sort of gotten used to Yuzu's physical beauty but that is not the case beyond Japan's shore (with China and Korea excepted). The thing is that Yuzu, had he musical talent to match his looks would today be sitting astride the world of Japanese pop, right alongside BTS and all the others. But Yuzu is not musical, at least in the normal sense of things. He IS musical in his ability to translate music into movement and that is one of the things that so sets him aside from all the jumpers that now infest male figure-skating (and increasingly the ladies also). What all this means is that, as I see it, Beijing will be Yuzu's to lose. Unless he turns in performance like Nathan did in his short program at PC, Yuzu will reign. Why? Well, to begin with judges at the Olympics are much more under the microscope than elsewhere. If they score a skater in ways that are obvious to the skating public they will be call on that. The other thing is, and I've raised this issue before, Yuzu's pursuit of a third consecutive Olympics gold medal, something not seen for nearly a century, will be the number one story of the Olympics, not just for skating but for everything. Because of that Nathan cannot rely on his usual judge biases. He's on his own. He must sink or swim on his merits alone. And we all know what that is. As Johnny Weir said back in 2015 and it's still true today - Nobody can beat a perfect Yuzuru Hanyu.

This appears to be an official collation on the Olympic Channel. If it is, a question - Has the Olympic Channel done this for any other athlete, particularly figure skaters. If it hasn't we have a clear indication that that channel, at least, knows how to increase its viewing numbers. Yuzu Rules!

Unless one is a world-class speed skater.

If there are those concerned about Yuzu's vulnerability to COVID if he participates in the opening ceremony of the Olympics this summer they should rest easy. As of June 1 all the Japanese athletes and support personnel are being vacinnated in anticipation of the games. If he is being prominently shown in the opening ceremony you can be sure he is classified as 'support personnel'. One sidenote here is that if he has been vaccinated he might have an opportunity to return to Toronto before the new season begins. As for his possible involvement in the torch run through Sendai I would say that if this were an ordinary Olympics and not one devastated by the pandemic he would have been involved in Sendai, quite possibly either handing off or taking hold of the torch at IceRink Sendai. That is not going to take place. Those in charge of the games' public relations need him in a far more prominent place then in Sendai. That's why if we are going to see him at all in the proceedings he will be part of the opening ceremony. While most speculation has been involving him in the torch handling in the stadium another thought has come to me and correct me if I am mistaken, but at some point in the proceedings there is someone who leads the assembled athletes in the taking of the Olympic Oath. I'm not sure whether that person has to be one of the athletes or someone not competing administering the oath. If the opening is left open to those not participating Yuzu's moral stature and his stature as a totally dedicated athlete would make him the ideal choice. This is just speculation on my part so I am ready to accept correction but the use of Yuzu here would have even more impact than if he were to hand the torch to the final torchbearer.