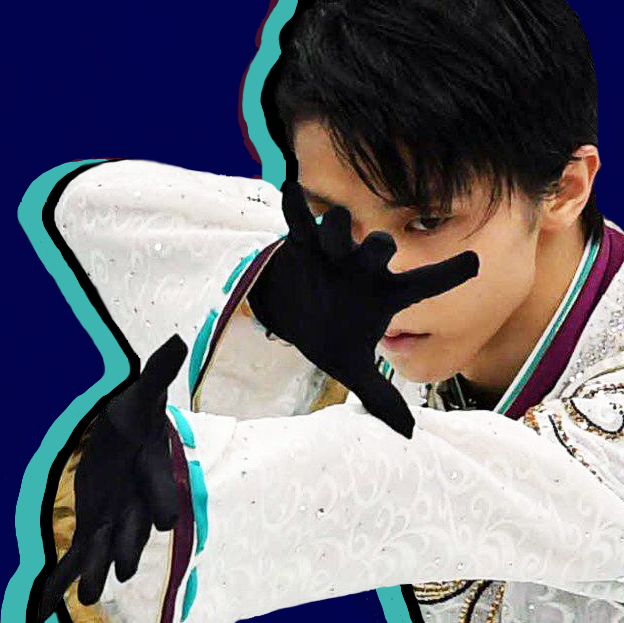 YuzuSkating_IsTheTruth
Members
YuzuSkating_IsTheTruth's Achievements

Mushroom (1/67)
Dear Yuzu, I hope you have decided to pamper yourself by taking a day's off from work (no FS-related stuff) to focus solely on spending some quality me time and with your loved ones. Forget about being Hanyu Yuzuru, the public figure, the FS star and athlete but simply enjoy being in the roles of a son, grandson, brother, cousin and friend. On this special day of yours, I hope you make time to visit the temple/shrine to pray for good (mental and physical) health and make your wishes for the year ahead. Wishing you a Blessed Birthday and many more Blessed Years ahead! May you always be surrounded with love, peace, happiness and good health. May your wishes and dreams come true.

Thank you for pointing out to us another beautiful being in Alexandre Bilodeau.

Thanks for your response. I've no idea how to make icons but I will try to do some online research on it first.

How did Yuzu warrant admiration, adoration and amass such huge, loyal and supportive global fan base in his competitive career that no amount of media propaganda can ever hope to achieve? Simply by staying true to himself and letting his work speak for itself. Since young, he has always been an artistic athlete.Through his perfect blend of highly artistic-highly technical and heartfelt performances, he was able to stir multitude of emotions in us, connecting and forging bonds with us. Time is required to cultivate a deep and intimate relationship with the audience. Competing in the Senior Circuit for more than a decade, time is on his side. According to Aristotle, "when these relationships blossom, they do so with trust, admiration and awe. They bring with them some of the sweeter joys that life has to offer." Based on our appreciation of his character and goodness, I believe many of us formed friendships of virtue (Aristotle's third type of friendship) with Yuzu. Before ending my post, I want to share the following quote with Yuzu (hope he's lurking). Praying for the best possible outcome for you, Yuzu "When they judge you, yawn. When they misunderstand you, smile. When they underestimate you, laugh. When they condemn you, ignore. When they envy you, rejoice. When they oppose you, prevail." ― Matshona Dhliwayo

@DancingFeather, I love your suggestion of using la gaia's (yes, the satellite that kindly shared Martina Frammartino's project of folding 1000 cranes for Yuzu which sets me thinking of what and how people like me (where attending Yuzu's competitions and displaying banners are out of the questions) can show our support and love for Yuzu. With more ideas generated from fellow satellites, I really hope we can use all of them (if technically feasible) to refresh the little icon on our profile pic periodically.

Couldn't agree more! There are and there will be many interpretations, depending on individuals. Oh, that's a lovely suggestion! Thanks for looking into it. If there are a few meaningful icons, maybe we can spread some cheers and surprise satellites by updating and refreshing with one every month till Yuzu's comeback (if it's not too time consuming?) or even quarterly basis? Please bear with me because I'm getting excited and this idea just popped into my head It helps to channel my energy to something positive and constructive rather than being dragged down by media propaganda.

I wasn't on board then, hence no idea fellow satellites folded cranes for Yuzu. Maybe we can get them to contribute an image of the cranes they folded (surely they must have pics for that)? Great minds think alike! Yes, I did think of a single gold feather but at this stage of his competitive career, he's not focusing on medalling but landing 4A. Hence, I dropped any colour schemes associated with the podium. I don't know how the team running this forum works. Do you guys need to meet (virtually) to vote and decide on issues that affect the design n feel of this platform? As I said previously, I'm only too happy if this rocket-like icon can be changed to reflect something more meaningful for Yuzu and satellites (no offence meant cos I'm unaware of the initial objective of introducing it).

@yuzuangel, thanks for your response. Since my last query, I have two images in mind - a single feather or a paper crane. I came across this article https://www.finefeatherheads.com/the-meaning-of-white-black-and-grey-feathers-a-message-from-the-divine/ and liked what was written. It contained nice feather pics too. I particularly like : "Feathers are sacred gifts from the Divine, a show of force from the heavens that they are listening to your prayers, your wishes and your desires. It's a symbol of acknowledgment, that someone or something in the spirit world is looking out for you, keeping you safe and empowering you to whatever path you set upon. If you see a feather, your angel is near and they are reminding you that, with them, you are safe." In view of the space constraints, I'm thinking of a single feather with options: 1) Either white or black single feather. I've a slight preference over white one though. 2) Black and white single feather As for the paper crane, I love Martina Frammartino's idea of folding cranes in Yuzu's costumes (someone shared it on this forum). For me, top on the list is Ten To Chi To for his current FS. However, it would clash with members' default profile pic. So next on the list is White Legend (for his senior debut). I think it would be wonderful to collaborate with his other supporters, bridging connections within the fanyu kingdom. The administrators or any keen party are welcomed to throw in more creative ideas I'm only too happy to show our support for Yuzu in another way besides the Yuzu banners that were creatively designed and displayed at competitions.

For this seemingly 'Mission Impossible' scenario, it's strictly a dream for the only resident/occupier of Planet Hanyu to execute Even then, I know it is still a tall order for him. There have been way too much human interventions up till now and it seems the only way to outdo them is his determination + hard work + divine intervention

I have taken my time to catch up on the Grand Prix Series (I have to admit it's selective skaters) and am consoled that despite his young age, Yuma and Shoma (who was having issues with his jumps previously) have stepped up to medal at the competitions they have taken part in. More importantly, their scores make them medal contenders for Beijing Olympics (silver and/or bronze. Ahem, we know the gold has already been reserved…) which will not upset the US narrative but sit nicely with it. This, however, on a brighter note means that the duty and expectations of bringing home Olympics medal(s) do not have to rest solely on Yuzu's shoulders. I hope this will free him to focus on his ultimate goal of writing history by being the first man to land a 4A in a competition. Speaking of which he can decide on which stage (Japan Nationals, 4CC, Beijing Olympics) he wants to debut the 4A whenever his ankle is ready. I would personally prefer the biggest stage of all - the Olympics, if it's possible. As the risk of injury is heightened for him, my wish is he goes for as few competitions as he could. In fact, it would be so out of this world if he just participate in only one comp but the biggest one of all this season and gave the world two ideal (by his standards) performances in which he also debut his 4A - hallelujah! Him attaining his ultimate goal would surely eclipse everything else that happens at the Beijing Olympics. For me, this would be sweetest revenge for what he has gone through for the past few seasons. Praying, praying for the best possible outcome for Yuzu

So relieved to hear he's withdrawn from CoR! As Brian Orser said in his interview, trust Yuzu to make the right decisions for himself.

Sochi (where he won his first Olympic gold medal) holds beautiful memories for Yuzu. So should he compete in CoR, I sincerely wish he receives HUGE psychological boost and positive energy to face challenges in this Olympic season. This will be crucial for his mental health which has been battered with unfair scrutiny and scoring of his performances in the past seasons and currently, with negative media reporting. Praying for the best possible outcomes for Yuzu

Hi, I was exploring the forum and came across thread (is this the correct term to use?). I am writing in here because I receive no reply from my query. Yesterday, the idea of replacing the rocket-like icon on bottom left of our profile pic (what's the proper term for that and does it serve any purpose?) with a paper crane to show our united stand and support for Yuzu (and also for our Italian Yuzu supporters /fans on their crane folding project) came to my mind but I have no idea how to contact the administrators with my suggestion and ended up choosing an inappropriate option to do so. Apologies for that.

It is greatly appreciated that professionals in other fields come together to share Yuzu's story and his positive influences on humanity, spreading good words of his artistic works in Figure Skating. I particularly enjoyed Max's sharing of his first impressions/views of Yuzu when he was a Junior skater. Indeed, he has a good eye for supreme talent even in those early days of Yuzu's competitive career. I see and admire Max as one of the rare Sports commentator who truly loves the sport of Figure Skating, is courageous to take risks in speaking out against the way it is being governed. I couldn't agree more with his views on the sport needing a genius like Yuzu (eg. his skating reflects the true definition of figure skating and through his research/thesis, suggest using AI for scoring to help address the difficulties judges faced when tasked to evaluate 12 elements ( plus GOEs) in 4 mins, rate 5 components of the prog, transition steps, skating skills, interpretation and entering scores in realtime) to save it from rotting as its core is diseased with corruption and biasedness. The way it is run now makes a mockery of the sport, along with the athletes, coaches and rest of the stakeholders (including fans/supporters/casual viewers). Many of us experience what Chiara Ghidini remarked that Yuzu's performances are empowering, therapeutic and healing. While watching this video during his absence at the NHK and as videos/pics of Yuzu competing over the years in various competitions being played out/ flashing by, a sudden wave of sadness overcame me. It felt like I've travelled in time to a future where Yuzu no longer competes. I felt momentarily lost and empty Lastly, kudos to all involved firstly in proposing this tribute, then organising the conference, translating (into English and Japanese) and making this video available for all to view.

I believe things happen for a reason. I would like to think the timing is not right yet, the forces of the Universe are still coming together and the stars are still aligning for him, hence he has to take a pause here. I am waiting patiently and calmly for his injury to heal well so that he can continue the next phase of his transformation. While missing him and his skating on ice, I'm really excited to hear of his new SP music choice, him landing 4F and really looking forward to his new costume! I cannot imagine any other skaters that can elicit such emotional responses during his absence in a competition. I pray that with the delayed gratification Yuzu and all his supporters are forced to practice now, we will be rewarded with two ideal performances from him when the time comes. Am I asking too much?