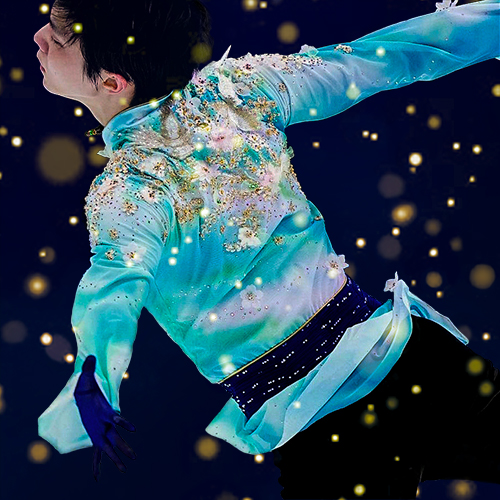 Content Count

264

Joined

Last visited
Recent Profile Visitors
The recent visitors block is disabled and is not being shown to other users.
Hi guys! Sorry for interrupting but I've just found this video on YT and thought it was so interesting and funny that sometimes Japanese and English sounded very similar. I couldn't stop laughing as the girl in the video and wanted to post this just for fun For a little more explanations, Passport=パスポート toritaindesu=取りたいんです=want to get Passport toritaindesu=I want to get the passport.

I am sorry for the luck of my English ability, I can not translate his thesis (thank other translators in advance!). But the most interesting part in this thesis for me was that he took his 1F and 3F as examples for measuring the weight transfer on the edge at their take off, and the result showed that his weight was on inside-edge in 1F but on outside-edge in 3F (remembering old days) But I think it is also possible he did it on purpose to show the difference clearly as the data.

The young actor at the studio, Jin Shirasu, said he could feel Yuzuru's enthusiasm as the entertainer that was different from his in the official competitions. And also he said he noticed Yuzuru's muscle was amazing, his body was not big but the muscle of his whole body was built up.

16

I had not watched Simon's commentary for the past several years for reasons, but I did yesterday because I didn't have any live stream for me. I've seen "Hana Wa Saku" many times, but it was especially amazing last night and I couldn't stop crying in front of my laptop. Then I heard Nathan's name (I know it was not his fault) and I admit I was so distracted. It may be fine in the commentary of the competition, but does Nathan have something to do with Yuzuru's performance in the Gala? I don't think so. Now some Japanese fans are saying the fans like me are overreacting. Everyone has their opin

I can already see Shuzo proudly introduces Yuzuru's 4A footage during today's broadcast on TV Asahi, which starts in 4 hours (18:56 Japan time). Before that, there is evening news from 17:30 and we might get it if we are really lucky. Sorry if I am completely wrong but

I am watching Men's SP on TV Asahi (which I recorded) and there were interesting comments by Oda about Nathan's jumps. Looking at his combo, Oda said sometimes Nathan tends to put too much weight on his toe(s?) when he executes jumps especially in the second half of the program where he is tired with less speed, so he needs more flow on it if he wants to receive more +GOE. About his 3A, he was doing it from difficult entry, but in terms of the height and distance, it was a little bit not enough to earn +GOE so the judges gave him around +3. (Thanks for pointing it out during actual commentary

I started watching in the middle of the ladies but is it only me thinks Team Japan is trying not to scream in K&C? If so, great effort by them. (they know the fans are not allowed to scream in their seats, so...)

Yuzuru said he was able to practice during quarantine while only going back and forth between the hotel and the rink. No news about the coaches so far. 羽生「みんなの力になれる演技を」4回転アクセル挑戦は「このスケジュールは無理かな」(デイリースポーツ) - Yahoo!ニュース This post has been tagged by robin as [NEWS].

Vaccination for the elderly started yesterday in Japan. My parents are both around 70 and they haven't received the coupon for the appointment yet, so maybe they can get vaccinated in May at the earliest. I am in the last group, so I am lucky if I can get it in this year. I hope Yuzuru can get it in summer since he has underlying disease. (and I think most of the Japanese athletes will compete without vaccination in Tokyo Olympics, I mean, if it is held as planned...)

We'll have Yuzuru's interview with Shuzo Matsuoka tonight, it's something we can look forward to

Thank you for your post, because after deciding to leave GS a few days ago, I was wondering when I first made a post in the fan fest, it seems it was October 2012. Looking at the names there, probably a half of them were also fans of other skaters, and some of them turned to Yuzuru's anti once he started winning. Human beings are very interesting Thank you all the members here for a lot of information etc. of Yuzuru and FS in general. I won't be able to post very often but I will be reading you the same as before

Plus, they are sleeping in the Diet. I am speechless with disappointment. https://www.youtube.com/watch?v=Geog_RqSQ20

Yes, according to this article, we'll have the criteria just like you said-first: medical personnel, second: people over 65 years old, third: people with underlying conditions and personnel in nursing home for the elderly. And I think it is going to be the same nation wide but nothing is official yet. https://www.yomiuri.co.jp/medical/20201223-OYT1T50286/

Happny new year, everyone And congratulations to all of you who got vaccine! Japan also has been preparing for it and they say it will start in February, but I take it with a grain of salt since I have lost trust in them. The country has declared the second state of emergency applies to 11 prefectures so far, but Miyagi is not included at this point. I hope Yuzuru is healthy with his family!